Pigmy Palm
Phoenix Roebelinii
Usually grouped in two's and three's, this bent trunk, rough-barked little tree with feathery fronds is used inside as well as out and adds great charm to any setting.
Starting at $14 per inch of height per trunk.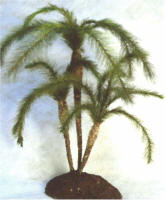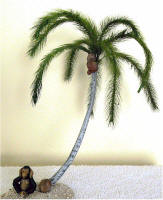 Whew! That was close ! Sometimes those coconuts fall a little too close for comfort! Coconut palms are available without monkeys, awaiting your own addition to the scene, a macaw, a shore bird, etc.

Coconut Palm Cocos Nucifera
This curved-trunk, gracefully swaying palm of islands, beaches, and inland lagoons is the form most envisioned when people think of a palm tree. These lovely palms were planted on Catalina Island for the movie set of South pacific and this beautification lingers on there to this day. These palms are available as is, or with scenic or whimsical enhancements. Snowy egrets, Herons, Roseate Spoonbills, Sea shells, sea oats, sea grapes, mangroves, alligators, monkeys are all available, if desired.
Starting at $14 per inch.