Misty (One inch scale) 1:12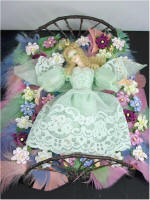 Misty, the sleeping fairy was made by Nancy Faye Roach as a gift for Grace. Grace's husband, Jim, constructed the twig bed while laid up with a bad knee, in the summer of 2003. Grace decorated the bed with flowers and feathers for Misty. One day, Misty will have her own home in a tree stump house along with other Fairies that Grace has collected.
Rose and Jinx 1:12
Rose and Jinx, also made by Nancy Faye Roach, are Misty's cousins. They came to visit Misty in 2004. Now they've gone to live with two little girls who are friends of mine..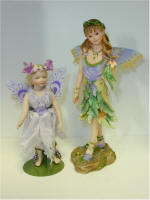 Misty's sisters, Butterfly and Violet. 1:12