Grace's Projects
Dedicated to the Glory of God
Gifts made by Grace 2001 - 2004
Page Revised 06/27/2017
Click on the pictures for closer views.
---
Made for Marlene H. Smith: 1/2001 One inch scale
The story behind this gift: Marlene, whose online name is packratmom, shared a box of mini making goodies with Grace. As Grace and Marlene became good friends, Marlene told of the time she and her kids were sitting around discussing her love for minis. One of her kids asked her if she wanted to be buried in a miniature coffin when she died. Marlene told Grace that, "Someday she wanted a coffin to sit on her mantle." Now, Grace, only being a packmouse, doesn't have a lot of mini makings to share with Marlene. So she decides to make her a gift in exchange for the box of things sent to her. This scene is called...."The Grave." Not pictured with the grave are the three mouse mourners. They were added later, as Marlene made the comment, "I can just see three little mice mourners with hanky's beside the grave."

The Grave
The Coffin
Packrat in the Coffin
---
Gift Made for Chryssa Sharp 3/2001 One inch scale
Grace asked Chryssa, who is studying for her Ph.D., what did she want Grace to make her for her birthday. Chryssa said the only thing she wanted was her finished dissertation! So that's what she got! This scene is called... "The Completed Dissertation"
Notice the can of Midnight Oil

The Completed Dissertation

The dissertation book contains 56 pages printed back and front. The title:
"Why Miniatures Are Important to Your Health"

Can you see the candle burning at both ends?

Thanks to Jim Collins for his printable computer.
---
For Micki Cameron 5/2001 One inch scale
The Birthday Party - This scene was inspired by the birthday party of Micki's twin sons, Robert and Drew. They went to a pizza parlor for the party.

Thanks to Jim Collins for his printable computer.
The pizza was donated by Marlene Smith
---
For Marlene Smith and Micki Cameron 5/2001: One inch scale
Marlene told me that she was having a problem with ants in her kitchen. So... I get the idea to make her an "ant eater" or "aardvark" to set on her kitchen counter. I told Micki about my plans. Micki comes from SA and told me that "aard" means earth, and "vark" means pig. I asked Micki if she had ants in her kitchen... She said, "No, but my dollhouse is over run with them." So I make a slightly larger aardvark for Marlene and a smaller one for Micki.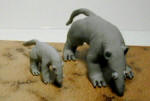 Ant Eaters, or Aardvarks.
---
Outhouse made for Grace's husband, 3/2002 One inch scale
Grace made this outhouse for her husband because she says she spends half her life waiting for Jim to get out of the bathroom. She heard about the "sunbather " doll (sold as souvenirs in Port St. Lucie, FL) and thought it was a hoot. It gave her the idea for the outhouse! Micki Camerion made the rolls of toilet paper. The dandelions were made by Alice McElhiney.

Grace designed and built the outhouse. The magazines inside are "Builder", "Northern Tool Catalog", "Miniature Collector" & "Reader's Digest."
See September 2002 Dollhouse Miniatures for the directions on how to build your own outhouse.
---
Made for Chryssa Sharp 3/2002 for her Witch's Cottage One Inch Scale


Gargoyle Candle Holder


Raven Candle Holder
---
---
Huggies Bathroom made for Mary Dempsey 9/2002 One inch Scale
After Mary's husband died, she kept having leaks in her bathroom toilet's pipes. She called Jim, Grace's husband to come over and fix them for her. When talking to Mary one time, Grace told her that everytime she saw the Huggies Diaper commercial on TV (where the baby takes off his diaper and wraps around a leaking pipe, she thought of Mary). Mary replied that everytime she sees that commercial now, she laughs. Grace decided to make the little bathroom scene for Mary to cheer her up. Mary died in October, 2003.


The little baby boy is anatomically correct.


Note the Huggie wrapped around the pipe behind the toilet.
---
---
In Memory of Helen Gellerman 1:144 inside one inch scale

Grace Shaw and Gerry Schipper bought and shared a collection of miniatures that belonged to Helen Gellerman. They decided to make a vignette to remember her by using as many of her own items as they could. The tables, run, sofa, magazines, and cushion were from Helen's collection. Grace re-covered the lamp shades to the correct color to go with the rest of the vignette. Gerry made the 1/144 scale insert that fit into the glass topped table. Helen passed on in 1995. The vignette was put together in 10/03.
---
---
2004 Homely Dolls Adoption Agency one inch scale
Dolls Grace made for Christmas. They are soooo homely!


Annie Debbie Deniee Jennie Jessi Lillie Lissa Suzzie Terrie Winni
All these poor homely little girls will need nose jobs when they grow up!

Other 2004 Gifts by Grace


Cat baskets with Black-eyed Susan's one inch scale


Little mice ladies with mouse dolls one inch scale


Black Iris in skull pots. one inch scale
---
All Photographs on this site are the property of Virtual Dollhouse and its advertisers. Anyone using the photographs without the permission of the owners will be prosecuted.
Home Page: Virtual Dollhouse
---
---
These pages are not abandoned. They are historical pages that do not change.